October 23rd, 2020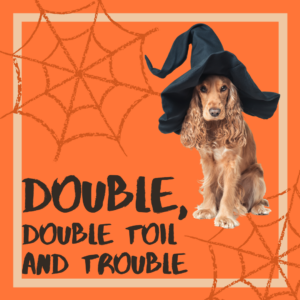 2020 has thrown a curve in a lot of our daily routines, and as Halloween season approaches, 2020 is continuing to be... well... 2020.
In previous years at Powell & Tiller Dental Care we have hosted an Annual Sweet Swap, which has created lots of laughs and lots of memories.  As we all navigate 2020 we decided to help local charities and support everything that makes our Austin community such a great community! With that being said *drumroll please* we are excited to announce that this Halloween we will be hosting a Powell & Tiller's Trick Or Treat Benefit to support Austin Pets Alive!
It will be a virtual fun experience for us at Powell & Tiller Dental Care, but an at home experience for all our participants!
The rules are very simple!
1. Dress up your pet(s) in the Halloween costumes!
2. Snap a picture of your pet in the costume!
3. Upload to social media and tag us on Facebook or Instagram @PowellTiller
4. Enjoy the laughs!
From October 29th through November 2nd, for every post/picture we are tagged in on Facebook and Instagram, we will donate $1* to Austin Pets Alive!
We hope this benefit that supports our Austin community brings a little fun to your Facebook and Instagram timeline, as well as a smile to your face!
We look forward to seeing everyone's pictures! Happy Halloween!
*We will donate until we reach our goal!