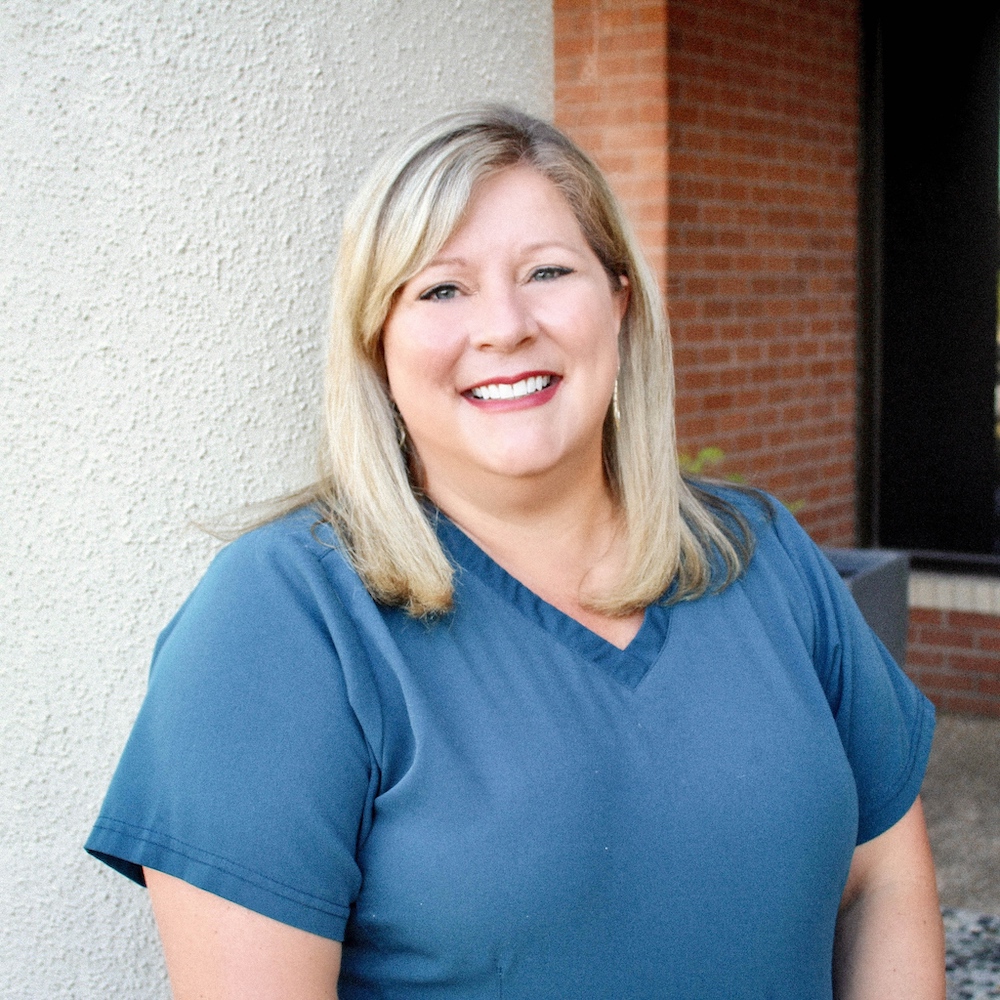 Creating Healthy, Beautiful Smiles
I am so passionate about preventive dentistry and treating my patients as a whole. I want to do everything I can to help my patients keep their teeth and oral health as perfect as possible.
Dentistry has allowed me to be many things to my patients. I am their dentist, friend, cheerleader, and counselor. I didn't know when I chose this career that it would involve so many different roles, but am so happy that it does. I feel truly blessed to be part of this ever-advancing profession and part of my wonderful patients' lives.
Our office is made up of an amazing group of dedicated women. We all work together toward the common goal of providing the highest level of dentistry with the gentlest of care. Each individual on our team was selected not only for their excellent clinical skills but because of their caring nature and desire to work together for the common good of our patients. We are truly a family, and we look forward to welcoming you into it.
Education and Continuing Educaiton
Bachelor of Arts in biology – University of Texas at Austin, 1990
Doctorate of Dental Surgery, magna cum laude – University of Texas Health Science Center, School of Dentistry, 1994
Because providing the best and most up-to-date care for our patients is my primary goal, continuing education is of the utmost importance to me. Dr. Powell and I are members of the Academy of General Dentistry, which entails more than three times the annual continuing education required for our state licensure. In addition to taking several courses through our many professional memberships, Dr. Powell and I are fortunate in Texas to have three dental schools, all of which provide continuing education on a regular basis. We stay current on the newest developments in dentistry, and review journals to determine which areas are changing and where we need to focus our education.
American Dental Association
Academy of General Dentistry
Texas Dental Association
Texas Academy of General Dentistry
Capital Area Dental Society
Omicron Kappa Upsilon Dental Honor Society
I grew up in a small town on the border in Southwest Texas called Eagle Pass. I loved growing up in a small town where you knew most everyone. I've lived in Round Rock with my amazing family for more than 20 years now, and although it's not as small as my hometown, I still feel that same sense of community.
My husband received his bachelor's degree in computer science from the University of Texas, where we met. He is currently an I.T. director for Forbes Energy. Christopher, my son, is in his last year of college at Texas Christian University — GO FROGS! He is majoring in criminal justice and hopes to pursue a career in law enforcement. Katie is attending the University of North Texas and is majoring in kinesiology and nutrition, with plans to attend graduate school to obtain her master's in nutrition.
Our home wouldn't be complete without our German Shepherd named Kona, who is four years old. We also have a white/calico cat named Daisy that has been part of our family for more than a dozen years.
When I am not at work or attending continuing education courses, I am usually with my family or volunteering with the Sacred Heart Community Clinic. My family loves the water, so we spend most summer weekends in Marble Falls on LBJ Lake. My kids enjoy wakeboarding, wake surfing, and hoverboarding; I'm the official photographer and judge on "who got the most air."
My husband and I are enjoying being "empty nesters." We have filled some of our extra time trying to get back into shape by joining Orange Theory. We also try to use it to visit our kids in the DFW Metroplex and catch the occasional TCU football game, especially if they are playing my husband's and my favorite team, the Longhorns!